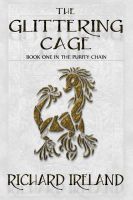 I recently read The Glittering Cage by Richard Ireland. He's recently released the book on Amazon, and I'm delighted to review it for him.
The book tells the story of Rift, a young man who finds himself in the intricate, beautiful world of Edria, with no memory of his past or who he is. At the same time, in a different part of Edria, Kelly also finds herself stranded in this world, in the palace of the Empress Nia. The difference is, Kelly knows exactly who she is and where she comes from, but has no idea how or why she's ended up here. She gradually comes to realise that her young autistic son, Daniel, who disappeared and is presumed dead, may also be in Edria. Set against a backdrop of political intrigue and disturbed magic, Kelly sets out to find Daniel. Elsewhere, Rift is learning that something is very wrong with this stunning world and somehow, he's the key to mending it.
It would be an understatement to say that Edria is richly imagined. The world is almost a character in its own right, shimmering with life, history, mythology, and a menagerie of weird, wonderful, and terrifying wildlife. The book has an almost mythic quality as Rift strives to discover more about himself and the darkness that is corrupting this pure environment. There are various twists and turns along the way, making the plot far from predictable. I found the pace flagged for me now and again, but the overall uniqueness of the story kept it fresh and sufficiently intriguing. The underlying theme of autism (the 'glittering cage' of the title) adds an extra dimension that keeps the book grounded in reality despite its sweeping fantasy elements.
Richard's writing is elegant, smooth, and flowing. Edria's philosophy is based on intricate themes and powerful imagery and he delivers these with effortless prose. The Glittering Cage is a unique read unlike anything I've read in a long time, and certainly fits the bill if you're after something original.
You can find it here: http://www.amazon.co.uk/The-Glittering-Cage-ebook/dp/B00B0H2TYC/ref=sr_1_1?ie=UTF8&qid=1363014912&sr=8-1